This web site is dedicated to the enlightenment and emancipation of humanity.
In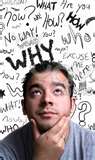 today's life where everything is fast paced, challenging and always on the go, do we sometimes find our existence and life meaningless and somewhat routine and robotic. Day in and day out we are doing the same thing, a means to make a living, take care of our families, educate our children, grow old and so forth.
Have you wondered what's in it for yourself? Have you ever had thoughts of, "Why are we here? Is it just to study well, get a job, find a spouse, have children, live well, grow old and that's it?". Have you thought of a greater plan that must be in stored for you, a mission, a calling or an evolution to being something greater than where and what we are now at.
What about rest? Are we truly at rest even in our sleep? During sleep, our body and it's bodily functions maybe resting, how about our minds? Is our mind resting? We have dreams don't we and for some of us our minds are not completely as rest even when we sleep.
Let's do a simple experiment. Close your eyes and try not to think of anything for a minute. Can you do it?
It sounds simple but for most of us
it is not a simple task as we are constantly bombarded with thoughts which is either about what we have just done, our past or about thoughts of what we will do next, our future. We find it difficult not to have any thoughts at all and if we can somehow achieve that state in just a fraction of a second then we are truly in the present and it is this state no matter how short is when we can truly say that our minds are resting and not processing anything.
Imagine if you can maintain that state of rest where the entire body, soul and mind is completely resting then you will have a peace of mind which brings about less stress, allow the body to balance itself so that inner healing can take place, have better attention so that you are more focus in what you do, and perhaps discover your purpose in life and your existence on Earth.
Try watching this video. You might find your answers here.
We hope that this web site will help you to start this journey of
Self Discovery with the many sections about Sahaj Meditation, PPVND Malaysia and the work we do as well as other articles of interest like health and the human spirit.
If you have found something interesting here or an answer to what you have been seeking, do drop us your thoughts in our Guest Book below.
Enjoy browsing through this web site and thank you for visiting us.
Cool Vibes for the People
Classes are conducted WITHOUT CHARGE, and honestly there are no hidden catches or conditions to be worried about. No flying, no fainting, no out of body experiences, no mesmerism, no funny practices, no abstinence, in fact nothing that you won't do on your own free will. Class facilitators are all volunteers, eager and willing to give back to humanity a little of their time and effort for something great they have gained in their lives.